Veronica Leach's Story
"Letting go of every single dream"
I used to think I knew a lot of things.
My mom told me a story one time—it was a word picture. She said that sometimes, our lives can be like a vase. They can be very pretty and ornamented, but if you were to shine a light into the top, through the hole, you wouldn't be able to see the light. If that vase shattered, it wouldn't be able to serve the original purpose of holding flowers. But if the vase owner pieced it back together, allowing the broken pieces to fit imperfectly together, and the light once again shined through the top, it would shine out through the cracks. All of a sudden, you have a light fixture. I didn't fully understand what she was trying to tell me. My vase hadn't shattered yet.
When I was younger, I had any number of plans for my life. I was pretty sure I knew more or less what God was going to do with me—I knew I was going to do something that really mattered, like law or medical school, then off to Africa to solve world hunger. I knew God and loved Him. I knew I loved playing music. But soccer was my life, and I knew I wanted to get out of Starkville. I believed soccer was the catalyst that would get me into any school I wanted to attend. I knew that God would bless my dreams because I loved Him.
"I've tried to win this war, I confess"
Injuries have a way of changing your dreams. Junior year of high school, a knee injury set me back in my training. I was unable to play to the ability I had before, and rehab time meant I needed to wait. I was disappointed, but my coaches assured me that if I went to State, I could walk on to the team in the spring of my freshman year. With this new free time, the youth minister gave me the opportunity to play guitar at youth group, and I steadily was given more leadership rolls until I was leading the band myself. I continued training, though—in my mind, God's plan had only been delayed. He obviously wanted to teach me something by making me wait. Even though MSU was the last place I had wanted to go, it wound up working out the best, and my parents were happy to have me close to home. Freshman year, I took as many classes as I could, hoping to speed up the get-out-of-Starkville train. I didn't realize how tiring it would be, and when it came time to talk to the coaches about walking on, I kept meeting roadblocks in my schedule. All the while, school got harder and I got more tired. I didn't realize the toll I was taking on my body by forcing myself into as many activities as possible until it was too late.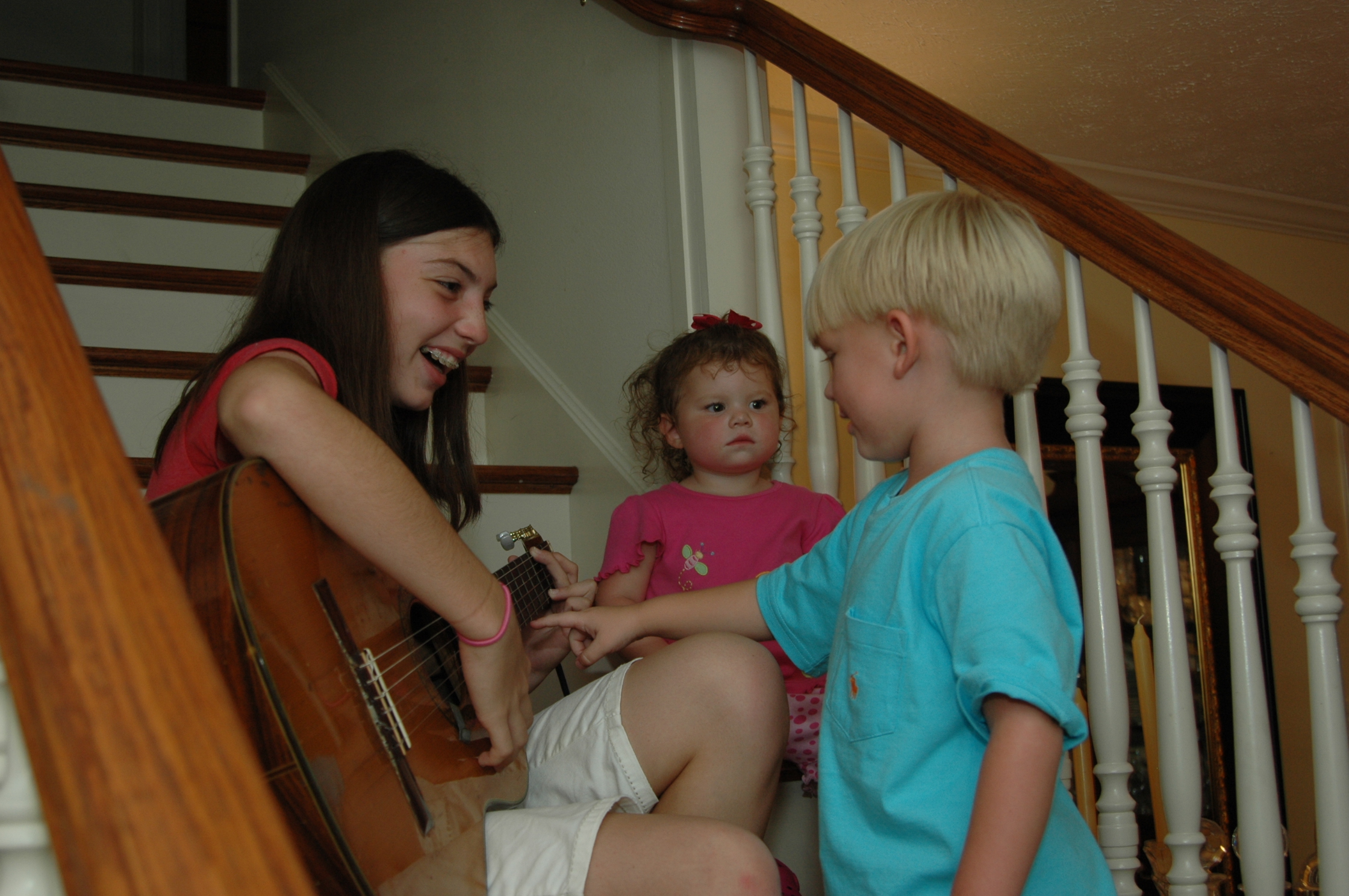 Everything changed when, at the end of a horrible semester, I had a concussion working at a summer camp. I had kept from my parents for 5 years that I occasionally passed out or had other strange occurrences with my head, and after camp they suddenly got worse—I couldn't even sit and concentrate in class without passing out. My parents and I started looking for answers, but the MRIs and CT scans were all negative. It seemed like nothing was wrong, which made me feel even worse after I thought this would surely be a simple fix. Finally, a neurologist diagnosed me with some minor damage to two parts of my brain from a concussion I had when I was 14; the damage was exacerbated by the most recent concussion. I was devastated. How could God have let this happen when He was the one who made the plans in the first place? Now, not only was I not playing soccer, I was having to withdraw from a school I didn't even want to go to in the first place in order to do vision therapy and work on healing my brain. My plans went from delayed to shattered. I would never be able to play soccer again.
It was during this time that I realized I didn't know God as well as I thought I did. If He had all these plans for me, why would He put so many obstacles in my path? I was angry and sad. But I was involved with BSU music and helping with the youth group, leading Bible studies with younger girls, and I thought that you can't both be a leader and be broken at the same time. I hid those feelings deep down and put on a very content face because I was sure God wouldn't want to use me if I showed to His people what I'd buried inside.
"My hands are weary, I need Your rest"
The year I withdrew, Dr. Tom asked if I wanted to be the music intern, and it couldn't have come at a better time. Though I'd had a head knowledge of it the whole time, my heart was beginning to understand that God had a bigger picture than what I could see—soccer was no longer on my radar, and God had graciously taken my desire to play away, which made me realize I had made it an idol. Over the following years, there were more questions than answers, but some came. I have epilepsy, a migraine disorder, and a sleep disorder among other things. I'd lived my life physically and mentally tired all the time due to constant seizures. I had to stop driving. Most of all, I was tired of waiting to get better. I thought that God wouldn't be able to use me until my body healed, until I could get out of my hometown, but that couldn't happen if I'm having seizures every day and rely on friends and family for help. I was trying to fight a war by myself against an enemy I couldn't see, and it was draining.
"Truth is, You know what tomorrow brings"
But at some point, it dawned on me that God actually knew what He was doing. He steadily revealed—through His word and His people—how He had been a part of the story all along, how He had orchestrated each little bit for my good. The knee injury? It was actually a blessing! It kept me from playing soccer and further injuring my head, simultaneously opening the door into leading worship. Not playing soccer kept me here, at home, where I have an incredible support system of family and friends so that when I could no longer drive, I wouldn't have to uproot my life. I had been ignoring all of the help He had sent my way, and gradually I realized how much more fulfilling it would be to let God be in control instead.
On top of it all, I had been praying for years for God's will to be fulfilled in my life, for me not to miss out on His plans, for me to not disappoint Him by choosing the wrong path. But then I got mad at Him when He blocked the other paths and lit the way to what He wanted me to do—music. I had to learn that my plans were pretty silly.
"So in all things be my life and breath...I want what You want, Lord, and nothing less"
Without even realizing it, I'd been seeking fulfillment in the things of God instead of in God Himself. He is the reward.
Now, after these few years of steadily finding answers and learning how to rely on people outside of myself, I can't imagine a different outcome. He has led me through getting back into school part-time, He's walked with me through negative side-effects of medications, and He's gently reminded me who to look to when I begin to sink after seeing the storm around me. He has grabbed my hand and pulled me back above the waves when my own feet failed. He even let me follow a passion that I had not considered—I had always loved music, and He opened doors. When I ignored the doors, He opened windows, picked me up, and threw me through them, because He is good.
"Your ways are always higher,
Your plans are always good...
There's not a place where
I'll go You've not already stood"
As embarrassing as it sometimes is to talk about all that has happened, God has taught me that my story—and every believer's walk with Christ—is not my story to tell. Every testimony, no matter what subject matter is involved, is the authorship of God of all of creation. These stories are for the world to see, a witness for who God is so that, through the works He has done in individual lives, everyone around us can see how the light of Christ shines on the fear and shadows of the world. I have had a lot of doubt and fear through this present trial, feeling weak and hating the fact that I have no control over the outcome. But God has given me a peace I can't comprehend.
Turns out I didn't know as much as I thought I did, but the important thing is that I knew and have learned even more through trial of faith what matters: I know above all else that my God is a big God. He is awesome, holy, powerful, wise, strong, compassionate, gracious, faithful, and loving. In His perfect love He does not falter, and He never lets His children walk alone.
I learned the most important lesson yet—the story was never about me to begin with! It was always about God. Not about my problems, but God's solutions; not my failures, but God's victories; not my shortcomings, but God's encompassing strength; not my small dreams, but God's huge designs; not my confusion, but God's structure. He is the Provider.
Knowing all of these things about Him, how could I do anything less but completely, with everything, trust in Him?
Songs Referenced:
Broken Vessels (Amazing Grace) by Hillsong United
Oceans (Where Feet May Fail) by Hillsong United
Trust in You by Lauren Daigle